Education is at the heart of our foundation.
By assisting individuals at all levels of scholarship, we aim to facilitate a wide variety of research and education.
Our grants allow individuals to travel the world in search of understanding the rich history and culture of architecture, building science and technology, historic preservation, landscape architecture, and urban design.
They provide tenured professors the ability to hire students as research assistants and support the publication of journals and books dedicated to design.
Richard Cleary

Professor, The University of Texas at Austin School of Architecture

The Page Foundation has provided the means for me to employ students as research assistants, to help underwrite publication of a student-run journal dedicated to architecture, to assist students attending professional meetings, and to bring prospective graduate students for campus visits.

Haley Fitzpatrick

Designer, Renzo Piano Building Workshop

Through merit-based continuing education scholarships, research grants, travel fellowships, and teaching assistantships from both The University of Texas at Austin School of Architecture and the Graduate School, I paid 21% of three years-worth of out-of-state tuition. Support from the Page Foundation was fundamental to my experience in architecture school.

Xinran Ren

Designer, Page

It was a great honor to receive the Page Foundation scholarship during my second graduate school year at The University of Texas at Austin School of Architecture. It meant a lot to an international student like me. With this support, not only could I continue to explore the architecture world in an affordable way, but I also feel this path was filled with energy and possibilities.
For more than a decade, we have partnered with the schools of architecture at The University of Texas at Austin, Texas A&M University, and Louisiana State University. We are dedicated to advancing multi-disciplinary scholarship about the built environment.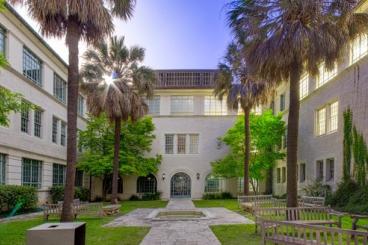 The future of our professions and communities are dependent on advancing research dedicated to the built environment. Our grant and fellowship recipients dedicate more time to their education and scholarship, dive into architectural archives, pursue internships abroad, and enhance educational programming at home.